Bike:
National Number:
Years Pro: 1
Favorite Fox Racewear: Dagger Pants
Gear Size: M / 32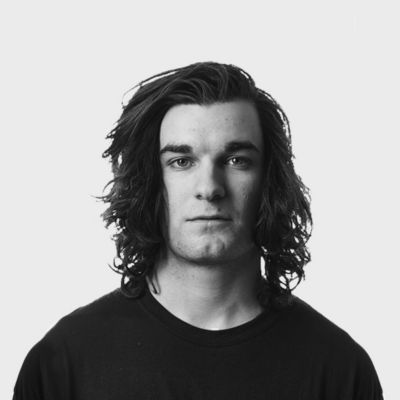 DATE OF BIRTH 17-12-1993
BIRTH PLACE Fernie, B.C.
RESIDENCE : Roberts Creek, B.C.
TEAM Mongoose bicycles
FOX TEAM RIDER SINCE 2012
National Number:
Bike:
TEAM Mongoose bicycles
Rider details
DATE OF BIRTH 17-12-1993
BIRTH PLACE Fernie, B.C.
RESIDENCE : Roberts Creek, B.C.
Years Pro: 1
Favorite Fox Racewear: Dagger Pants
Gear Size: M / 32
FOX TEAM RIDER SINCE 2012
The small valley town Fernie, B.C. has produced one of the biggest up and coming stars in the Freeride mountain bike scene. Paul Genovese is on his way to continuously compete for top podium finishes at events around the world. Participating in his first Redbull Joyride experience, he threw out a ridiculous Superman Seat Grab to get the crowd raving. Praised by Redbull Joyride Champion, Brandon Semenuk, Paul showed signs that he is right where he needs to be. From rookie to one of the favorites for the Joyride, Paul will amaze in future contests.
Læs mere
Interview Questions
Where is your favorite place to ride? Coast Gravity Park or Brandons yard If you weren't a Pro Rider, what would you be doing? Ski bum Who are some of your favorite bands? Mogwai, Tame Impala, Nas, MF DOOM, Boards of Canada What do you like most about riding for Fox? Picking stuff out on the site and having a huge box show up at my door never gets old! Also, it's an honor to be on the same team as my childhood heroes. What motivates you to ride MTB? Having fun, watching classic mtb DVDs, Progressing. As a Pro, what is your most proud MTB moment? Landing my first 360 backflip on dirt was pretty unreal.
Læs mere
Career Highlights
2015
9th Overall Diamond Series
6th Place Munich Mash Prime Line
2014
5th Place Colorado Freeride Fest
3rd Place GoPro Games
2013
2nd Place Ranch Stylet