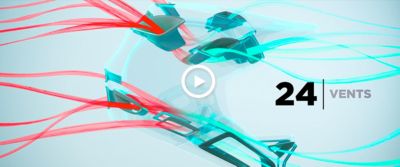 FOX PRESENTS | THE ALL NEW FLUX
IN A CLASS OF ITS OWN
The Fox Proframe helmet is the lightest and most breathable full face mountain bike helmet we have ever created. Designed to perform at the highest levels for aggressive all mountain riders and enduro MTB racers, it packs DH certified protection into a superlight shell via our patent pending, fully integrated chinbar. With 15 big-bore intake and 9 exhaust vents, the Proframe MTB helmet offers open face level airflow and breathability to keep you cool on tough assents; and once you reach the top, gives you the confidence to ride to your limit on challenging descents.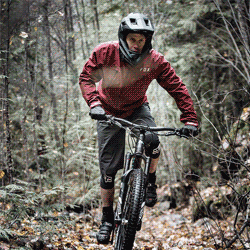 BEST APPAREL AND
PROTECTION WINNER
WINNER 2017 -
ACCESSORIES CATEGORY
DESIGN & INNOVATION
AWARD 2018
TECHNOLOGY & FEATURES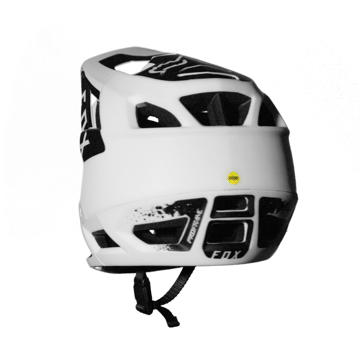 VARIZORB
Dual-density Varizorb EPS liner provides improved protection by spreading forces of impact across a wider area.
MIPS PROTECTION
Proven MIPS™ impact protection system reduces rotational forces in a crash.
INTEGRATED CHIN BAR
The integrated chin bar is secured to the helmet with our patent pending system and meets ASTM downhill standards.
BIG BORE AIRFLOW
15 big bore vents and 9 exhaust vents keep you cool and aid in moisture management.
SECURE VISOR
The securely fixed visor is positioned to channel airflow into the big bore vents.
FIDLOCK BUCKLE
Fidlock® SNAP helmet buckle provides quick and secure entry and exit while wearing gloves.
FOX UNIVERSITY | THE ALL NEW FLUX HELMET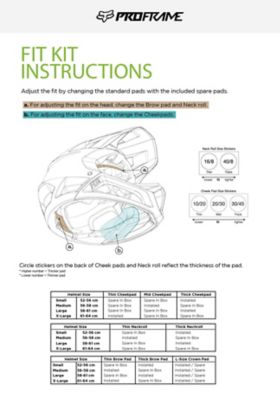 All spare parts are also available to purchase on our website - in the Spare Parts category.
More Styles
Fox Proframe er den letteste og den mest åndbare helhjelm, vi nogensinde har udviklet. Den er designet til høj ydelse for aggressive all mountain- og enduro-ryttere. DH-certificeret beskyttelse med en supertynd skal i vores patenterede, fuldt integrerede hagebeskyttelse. Med 15 indgående og 9 udgående Big Bore ventilationshuller giver Proframe hjelmen luftgennemstrømning og åndbarhed på open face-niveau, så du er afkølet selv på de længste og mest udfordrende ture op ad bakke, og når du når toppen, kan du køre udover dine egne grænser på selv de stejleste bakker. Denne hjelm er udstyret med MIPS-laget med lav friktion. MIPS er et patenteret system til beskyttelse af hjernen. Det er udviklet til at reducere rotationsvold, som belaster hjernen ved skrå stød på hovedet. MIPS efterligner hjernens eget beskyttelsessystem ved at tilføje et lag med lav friktion mellem hovedet og hjelmen. En hjelm med MIPS kan absorbere mere energi fra et skråt slag. Almindelige hjelme testes ved at lade dem falde lodret ned på en flad overflade. MIPS er designet og testet til virkeligheden, og afspejler hvordan de fleste ulykker sker, med skrå stød på hovedet. MIPS højner niveauet for hjelmsikkerhed.
Vores letteste DH-certificerede full face hjelm
Patenteret, integreret hagebeskyttelse
Meget åndbar, fugtopsugende og antimikrobiel
24 Big Bore-ventilationshuller for åndbarhed
Et fast visit er perfekt placeret for maksimal luftgennemstrømning
Fidlock® SNAP hjelmspænde giver hurtig på- og aftagning
Med MIPS (Multi-Directional Impact Protection System)
Dual density Varizorb™ EPS beklædningen giver forbedret beskyttelse
Str. medium vejer 750 g
Tekniske oplysninger